Meet Taiga service providers
---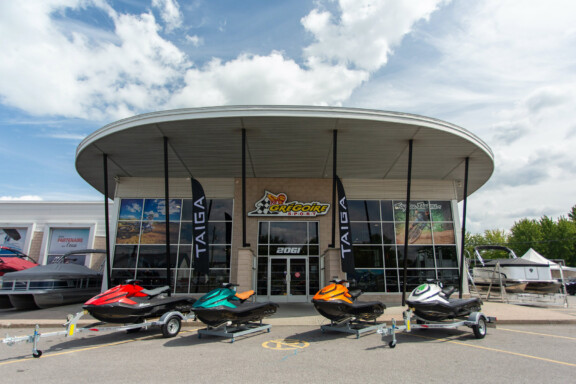 The revolutionary service model centered around customers
It's all happening! Taiga continues to develop its Taiga Service Providers Program with deliveries to three new Taiga Service Providers: Grégoire Sport in Quebec and Parkway Yamaha and Gordon Bay Marine in Ontario. As a direct-to-consumer company dedicated to offering the highest-level consumer experiences, the Service Providers Program is an innovative servicing model that amplifies Taiga's reach and accessibility.
Taiga Service Providers (TSPs) act as tangible touchpoints for our customers, accompanying them throughout their off-road EV journeys by providing delivery support and service whenever required. Equipped with necessary tools, parts, accessories, and training, TSPs are foundational to our mission of electrifying powersports. We carefully vet each service provider to ensure their extensive experience in the industry, their commitment to the growth of EVs, alignment with our standards of excellence, and unparalleled dedication to what matters most: the customer.
Grégoire Sport, one of the largest motorcycle and ATV dealerships in Quebec, offered the perfect choice to act as an inaugural TSP. Known for their dedication to community and adventure above all else, the company shares our passion for intersecting sustainability and the world of powersports.
"This is a monumental moment for both Taiga and Grégoire Sport. As one of the first Taiga Service Providers, we are equally thrilled to introduce EV solutions into the world of powersports and enhance consumers' experiences through our expertise. Partnering with Taiga was an intuitive application of our mission, and we are excited to see what the future brings."

– Gaby Grégoire, President of Grégoire Sport
Parkway Yamaha and Gordon Bay Marine join Grégoire Sport as Taiga Service Providers, following Taiga's batch delivery of Orca Carbon personal watercraft to these Ontario-based locations. This summer, the Taiga team enjoyed the opportunity to collaborate with Gordon Bay Marine to offer its members an introduction to our Orca Carbon watercraft through test rides out on the water. We are thrilled to continue expanding our network of Taiga Service Providers, and in doing so, laying the foundation for a more sustainable and adventurous tomorrow.