Revolutionizing sustainable outdoor exploration
---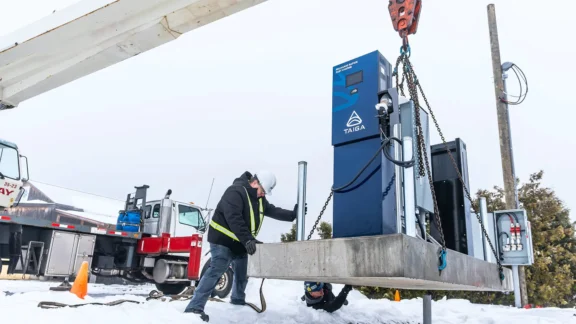 Our year in review
Like our favorite adventures, this year has been full of awe-inspiring exploration and discovery. The peaks have gotten our hearts racing, enlightened our perspective, and pushed us to reflect on how far we've come.
As we wrap up the year, the Taiga team is taking time to commemorate meaningful moments and celebrate the milestones we've achieved. We're proud of the work we've done in 2021. It has been a benchmark year for Taiga, and we're only getting started as we ride into 2022.
From going public and scaling up, this has been a year of evolution, growth, and momentum towards changing the world.
"I feel honored working alongside all our amazingly talented engineers and technologists. To be able to witness the growth of these qualified individuals in our company firsthand is inspiring. I truly believe we have to best teams to achieve our goal of electrifying this intricate sector and fulfilling our production goals."

— Alexandra Duron, Director Manufacturing Strategy
"I'll never forget the first time the depalletizing robot was run on the automated module stacking line. It was a huge project for our team and one of the many milestones; I'm excited to be part of so many firsts."

— George Pisau, Automation Design Engineer
"My most memorable experience was when I got to try the Orca. It was my first time on a personal watercraft, and it was the most exhilarating, adrenaline filled experience ever! It's powerful, handles the water extremely well, and very quiet due to the 100% electric powertrain. I loved every minute of riding this revolutionary PWC."

— Joanna Kolankowska, Event Marketing Manager
Evolving dreams into destinations
Taiga's mission is to elelctrify the most challenging vehicle segment and change the way we engage with the outdoors.
We began 2021 by announcing our intent to go public, raising the funds to pursue our most ambitious plans, and accelerating the fulfillment of our mission. We listed on the TSX in April, demonstrating our team's early success and opening a new chapter of evolution towards our vision of a clean future.
Virtual celebration as the Taiga team cheers on the first day of trading.
We invested in, and successfully built, our world-first infrastructure for the mass-production of electric off-road vehicles to meet the increasing demand and growing pre-orders. The revolutionary battery assembly line created in our Montreal facility will allow us to scale production, while giving us complete control over end-to-end development and innovation.
With sights set on the next generation of our technology and production ambitions to match, we achieved a world leading, performance-focused, 100% electric off-road powertrain. By pushing the boundaries of electric power and leveraging the modularity of our technology, we are pioneering off-road vehicle offerings to sustainably explore nature like never before.
Trailblazing growth
The evolution of the business called for the growth of our team. We expanded headcount, quintupling in size throughout 2021, welcoming innovators from around the world.
Today, our team is composed of field experts and accomplished executives from diverse backgrounds, demonstrating the destination that is the Taiga brand, and our ability to attract world-class talent dedicated to our mission.
Global demand for our products is growing, with interest for orders from customers in over 45 countries across six continents. As an example, Wwe've reached 130 multi-unit orders from global commercial operators enrolled in Taiga's fleet program, proving continued demand for fleet electrification.
Earlier this year we secured a second 130,000-square-foot facility in Montreal to support us in our mass-production efforts. Our original space is now a fully dedicated research and development center focusing on innovation across our product line in areas including technology, design and performance.
We're eager to broaden the horizon of what's possible with electric vehicles, so we launched an industry-leading charging network to carve the way for electric outdoor exploration. Aiming to electrify 75,000 off-road kilometers with over 1,000 charge points by 2025, we've already begun installing Level 2 and Level 3 chargers in Canada. The vision for the off-road charging network is to unlock access in hard-to-reach on-land and on-water locations for unrestricted and sustainable outdoor exploration.
Watch a video recap of one of our installations below:
Engineering a new landscape for outdoor adventure
From ideation and design to testing and production, it's no question that the heart of our business is the technology across our product line.
We develop and iterate, gaining insights to improve our products with our customers in mind at each step along the way. We spent hundreds of hours this year terrain-testing our vehicles across the continent, leveraging the conditions to prove the durability and reliability of our machines.
Testing has proven our technology's performance across water, snow, and challenging terrains – as well as extreme heat and cold.
We also unveiled Orca Carbon, our fully electric personal watercraft predominantly made of carbon fiber and engineered for the future of on-water adventures. Inspired by a strong desire to protect, enjoy, and explore the waters of the world, our team built what has never been done before. To celebrate this achievement, we invited some of our earliest pre-order clients to take Orca Carbon for a spin on the St. Lawrence River around Montreal.
One of the most exciting moments for Taiga to date is the product evolution from prototypes to production units, with the first customer-ready units soon to hit the wild.
Taiga has focused on ramping up production through build and testing phases aimed at improving manufacturing efficiency and quality in key areas including battery automation, the chassis systems, and the propulsion and technology platforms. This represents years of innovation, unwavering belief in our mission, and laser-focus in bringing the team's shared dream to life.
Engineered to allow outdoor enthusiasts to explore the snowy backcountry with no compromises, Taiga snowmobiles are aiming to change the landscape of sustainable adventure.
With our vision of a fully electric future and the expanding use of our technology, we are accelerating the global adoption of off-road EVs to redefine the future of outdoor exploration.
Ultimately, 2021 has been a year towards changing the world, and we can't wait to share the trails and water with you in 2022.