Taiga makes European debut
---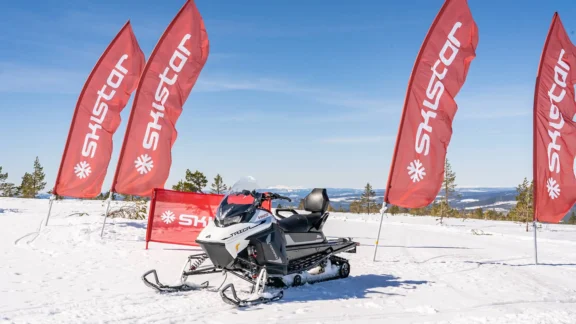 Today Taiga debuted its snowmobiles at SkiStar, the leading operator in alpine mountain tourism in Scandinavia, at its resort in Sälen, Sweden. After the company's milestone deliveries in March, this European unveiling marks another significant landmark for the electric powersports manufacturer. This is an important step in Taiga's global expansion aspirations, whose product line innovation began with electrifying the snowmobile, one of the most challenging vehicles in the off-road segment. For SkiStar, it is an important next step in its sustainability transformation to have a net-zero climate impact from an operations standpoint by 2030.
"Sweden continues to be a global pioneer in electrification and sustainable solutions. It's only a natural decision for us to debut our Nomad snowmobile in Europe at SkiStar in Sälen," said Taiga CEO Sam Bruneau. "We're excited for the SkiStar team to experience these two revolutionary machines, while also bolstering our mission in providing an electric snowmobile that does not compromise on performance, while also preserving the environment."
"Protecting the unique mountain environment in which SkiStar operates is fundamental for the sustainable development of our business. We therefore recognized Taiga's innovation in the off-road space early on and are excited for them to debut their sleds here at SkiStar," said Fanny Sjödin, Head of Sustainability at SkiStar. "Low emissions, good performance and a vast improvement on the snowmobiles environmental impact, has encouraged us to choose Taiga´s electric snowmobiles for use by ski patrol and other mountain operations."
Taiga snowmobiles allow outdoor enthusiasts to consciously explore winter terrains without compromising performance, noise, reliability, and efficiency. Leveraging a clean sheet design and mechanically simplified snowmobile platform, Nomad delivers optimised functionality for workhorse tasks, family outings, or trail riding. No powertrain maintenance, customizable drive parameters and hyper-precise throttle control contribute to Nomad's ease of use and approachability. Bringing peak performance in all conditions and standard automotive charging, Taiga is setting the standard for durability and reliability in electric snowmobiles.